Welcome to the  CRHNet Website
Welcome to Phase 1 of the launch of our new website; we hope you like the new look and feel!.  In Phase 2 we will work on adding more archived content from our previous website.  In the meantime, if there is something you are looking for but can't find please drop a note to info@CRHNet.ca for assistance.  Thank you for your patience as we migrate content over.
Latest News
It is with a heavy heart that we share with you the news that Larry Pearce has passed away.  Larry helped to establish CRHNet in 2003, acted as Executive

Donation to the Larry Pearce Education Award Fund
The Larry Pearce Education Award began in 2015 to provide funding for deserving post-secondary students undertaking studies in any discipline related to Canadian disaster risk and/or emergency management.   This award was named after Mr. Pearce to pay tribute to his tireless efforts in advancing education and innovation in Disaster and Emergency Management studies.
Thank you for your support.
CRHNet is a non-profit organization; as such we do not have charitable organization status.
Follow Us on Facebook
Mary Maytwayashing from Lake Manitoba First Nation reflects on last winter's power outage.

"The outcome from these events has always led us to teach our children about the sacredness of life and to respect the earth and all of its life. The animals, medicines, plants, fire, and water. If we respect and acknowledge their sacredness then the Earth Mother would continue to take care of us."

@AnishNation @GrandCouncilT3 Indigenous History Month

haznet.ca/lake-manitoba-power-outage-reflections-off-grid-lessons-revived/ ... See MoreSee Less
Lake Manitoba power outage reflections: Off-grid lessons revived | HazNet
Good Day All, I hope everyone is having a good day. This power outage in Lake Manitoba First Nation, aka Animozeebeeng, Dog Creek Reserve has surely been intense at times. We've been so busy maintaining everything with the upkeep: keeping us warm and wearing layers of warm clothing and having wate...
Load more
Follow Us on Twitter
How are you recognizing #NIPD2021? We invite you to share events, resources and information here. We have the deepest respect for #FirstNations , #Inuit and #Métis peoples and encourage you all to learn from the knowledge sharers & initiatives that support this day and beyond.
Want to learn more about how you can contribute to resilience and disaster risk reduction? Join us on Facebook Live as we discuss how to get involved in the annual #CRHNet Symposium. #EMGTwitter

https://t.co/fmgR6kpBAr
Twitter feed video.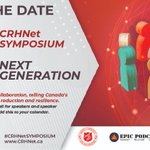 Load More...
Partners & Agency Members