Welcome Canadian Risk and Hazards Network
We continue to make improvements to our website and are happy to announce that members can now build out profiles for their student, professional and organizational memberships.  We hope this will aid in networking with your peers and colleauges.
We have also included an events calendar that is open to organizational members to populate with their events.
We have update our membership benefits as well!  We encourage you to take a look around and let us know what you think!
Latest News
Here is a set of nine webinar talks on various aspects of DEM ethics done in collaboration with the Copenhagen Centre for Disaster Research (https://www.youtube.com/channel/UC5YoondLHU0x7bSlGkE6xdg/videos). The videos are typically about

Donation to the Larry Pearce Education Award Fund
The Larry Pearce Education Award began in 2015 to provide funding for deserving post-secondary students undertaking studies in any discipline related to Canadian disaster risk and/or emergency management.   This award was named after Mr. Pearce to pay tribute to his tireless efforts in advancing education and innovation in Disaster and Emergency Management studies.
Thank you for your support.
CRHNet is a non-profit organization; as such we do not have charitable organization status.
When optimism can sometimes feel out of reach, this issue brings about a much needed focus on Hope. In this issue we connected with emergency managers, risk and resilience academics and practitioners, front line responders, and our broader communities to ask some fundamental questions: What inspires you?
What gives you hope? What keeps you going?
We found that art can come to the rescue in the face of seemingly endless disasters and hopeless circumstances. Stories of hope have sprouted in the form of poems, paintings, photographs, and more.
Throughout history, art has always been a means for social commentary.
Our cover image is a
 stunning illustration
 of stillness, rest, patience, and beauty by Neebin Prince, a youth leader from Mattagami First Nation. It is a reminder from Neebin that 'we must rest in order to protect our spirits and flourish once again when our time comes'.
colleagues, students and friends
Follow Us on Facebook
Our Emerging Professionals Committee's event 'El Niño-Southern Oscillation: What to expect?' is coming up on Wednesday, March 29! This zoom event will feature a panel discussion followed by Q&A.

Today we're excited to introduce our panel of guest speakers - Jim Abraham, Niru Agrawal, and Patricia Martel.

Be sure to join us for what promises to be a lively and informative discussion. To sign up, please visit crhnet.ca/events ... See MoreSee Less
Load more
Follow Us on Twitter
Our EP committee's event on El Niño-Southern Oscillation is coming up on March 29! We're excited to introduce our guest speakers - Jim Abraham, Niru Agrawal, and Patricia Martel. Please visit https://t.co/YQh9PVs54E to sign up.

#DEM #CRHNet #ElNino #EmergencyManagement #Haznet
Twitter feed video.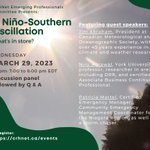 On March 29, our Emerging Professionals Committee will host a panel on El Niño-Southern Oscillation - what is ENSO, how does it work, and what are some potential disaster and DRR scenarios in an El Niño year?

To register, please visit: https://t.co/5rbkhKSdXj

#DEM #CRHNET
Twitter feed video.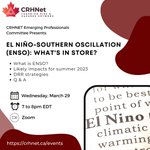 Load More...
Featured Partners & Organizations