Contacts
Executive Director
Address
Canadian Risk and Hazards Network (CRHNet)
Box 73016
Wood Street Post Office
465 Yonge Street
Toronto ON M4Y 2W5
Please visit and participate on our Social Media Channels, join the conversation!
Follow Us on Facebook
There will always be those that try to get around restrictions ... See MoreSee Less
Load more
Follow Us on Twitter
To our CRHNet members and supporters, we invite you to attend our Virtual AGM and Awards Recognition on Thursday, January 28th. Please RSVP by emailing 2020AGM@CRHNet.ca
Twitter feed video.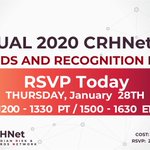 Load More...