2020 Virtual CRHNet Symposium & Roundtable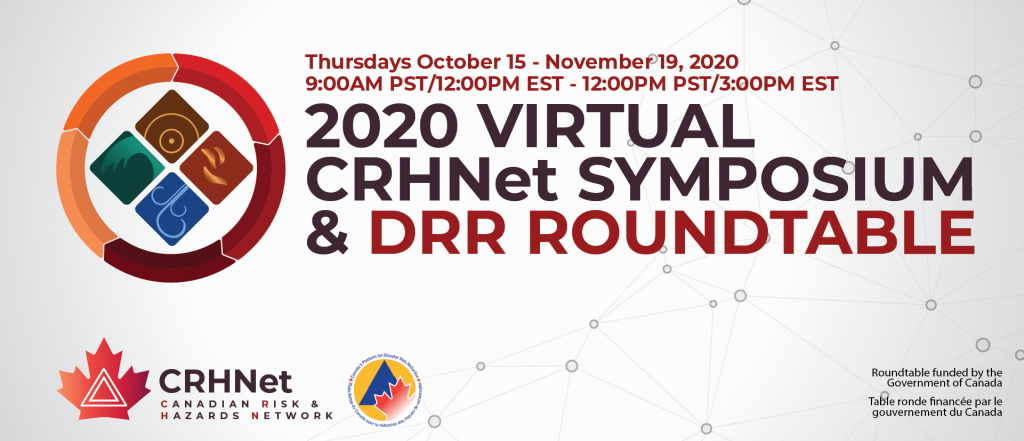 Overview
We are very pleased to be preparing for the 2020 Virtual CRHNet Symposium and the DRR Roundtable event. A key objective of the DRR Roundtable has been to provide a coordinated mechanism for DRR across sectors. By merging these two events, we are better placed to meet this objective.
Building stronger relationships with stakeholders and communities will provide the sharing and creation of knowledge and results that can be actualized with those involved in the industry.  Mitigation strategies shared will strengthen recovery efforts and minimize the impact of future disasters.
The Sendai Framework focuses on the adoption of measures which address the three dimensions of disaster risk (exposure to hazards, vulnerability and capacity, and hazard's characteristics) in order to prevent the creation of new risk, reduce existing risk and increase resilience.  We are 10 years way from the 2030 agenda and we'll explore how far things have come, where we are now, and how to share knowledge to increase engagement to improve resilience in Canada.
Together we will support and advance Canada's domestic implementation of the Sendai Framework through the Emergency Management Strategy for Canada, by addressing two priority areas;
enhance whole-of-society collaboration and governance to strengthen resilience;
and improve understanding of disaster risk in all sectors of society.
"CRHNet is excited to be offering these programs online and virtually in the fall of 2020" says CRHNet President, Patricia Martel. "We feel this innovative approach, with travel being removed from the equation, will allow more people to participate. CRHNet will explore challenges and solutions from a multi-sector contingent and better understand what current obstacles are preventing better DRR solutions.  This format will also allow us to highlight many solutions and efforts that are being utilized and tested to improve resiliency in Canada."
For information on the Symposium and DRR Roundtable collaboration, please read the event announcement.